Welcome to Ladies' Links & Drinks! LL& D is perfect for all levels. Whether you are simply curious about the game, a brand new golfer, or a casual player, we are happy to have you join us!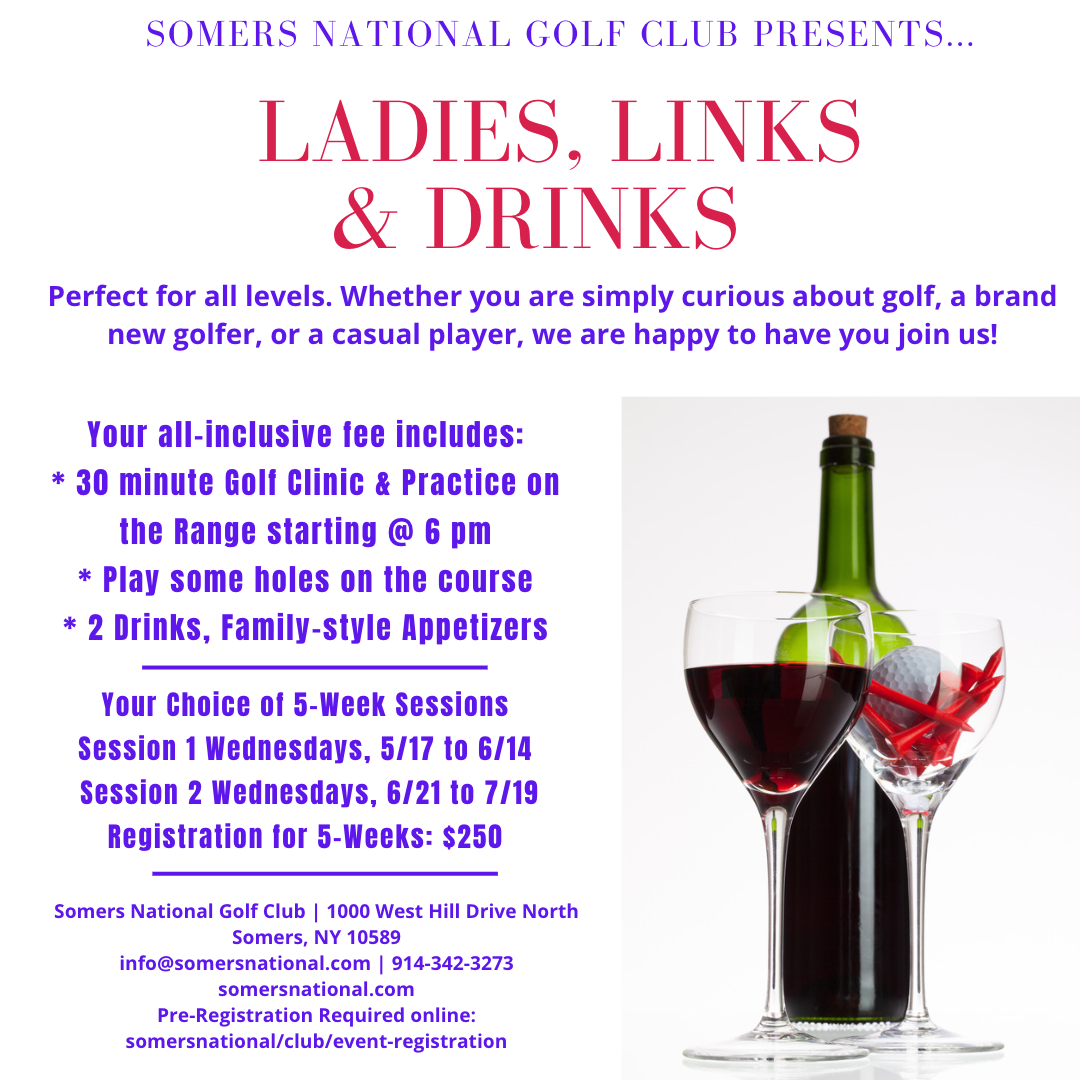 Somers National Golf Club hosts "Ladies, Links & Drinks," a program designed to acquaint women 21 and older with the game of golf. The Club hosts number of 5-week sessions throughout the season. If you've never touched a golf club before, this is the perfect place for you to be! The social aspect to the game is a big thing as well… this program provides an opportunity for women to go out and play with their friends. At Somers National, program participants will meet Wednesday nights (Session 1 starts May 17th and Session 2 starts June 21st). Sessions begin with a 30-minute clinic and practice on the range led by Skip Marini, followed by a few holes on the course. After, participants will have the opportunity to socialize over drinks and appetizers. The fee for a 5-week program is $250. No equipment is required, other than comfortable clothes and sneakers. Somers National provides the clubs and balls.
New for 2023: Skip Marini will be your host for the clinics and he will also have a qualified assistant. There will be a maximum of 16 participants to allow for an 8:1 student to instructor ratio.
Session: Wednesday PM, Ladies Links & Drinks
Location: Somers National Golf Club, Driving Range & Practice Area
Instructor: Skip Marini
Session 1: 5/17/23 to 6/14/23

Session 2: 6/21/23 to 7/19/23
Schedule Details: Wednesday Nights, 6 pm
Age/Gender: Ladies, Ages 21 and over
Fee: $250
To Register, please use this link: Ladies Links & Drinks Registration